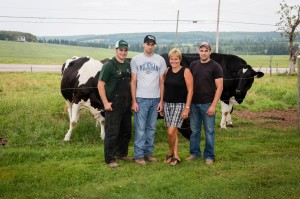 Howardvale Holsteins is a 4th generation dairy farm in Springfield PEI. The farm is run by Brenda Howard and her three sons, Tyler, Dylan and Brett. When they took over the farm in 2002 they set up the first "Dairy Advisory Team" in the province. They credit this team with giving them a wealth of knowledge in their early years. They started out with 45kgsproduction quota and they now own 170kgs. In addition to what they own they are leasing quota which allows them to produce over 200kgs. They milk 60 purebred Holsteins and raise all of their own replacement heifers.
Cow comfort is a priority for the Howards and they are pleased with switching over to sand bedding. By using a dairy nutritionist they have improved feed efficiency and milk production while maintaining herd health. They grow grass and corn silage as well as high moisture corn for their herd. The only bought feeds are mineral supplement and canola meal.
All three Howard boys went through 4-H and continued their interest in agriculture after high school. Tyler studied Agriculture Business at Dalhousie University Ag Campus, Dylan studied Dairy Herd Management in Wisconsin and Brett took a Farm Machinery and Heavy Equipment course at New Brunswick Community College. Brenda recently retired from teaching and focuses on the financial management side of the business.
The Howard's have a passion for dairy farming and continuously strive to grow the business.