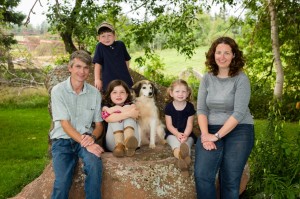 Adam and Jennifer MacLeod are pictured here with their 3 children, Jessie, Millage and Katie.
With backgrounds in farming, both Adam and Jennifer came from dairy farms in PEI and NS. Over the past 6 years they have started their sheep farm, Hold Fast Farms, located in Breadalbane, PEI. The MacLeod's currently have 75 Dorset cross ewes and they hope to expand their flock to 125 within the next year. They lamb two groups a year, one in December and the other in March.
The farm also grows 500 acres of crops including wheat, barley, oats and soybeans. The majority of the crops are taken to PEI Grain Elevators and Atlantic Soy with the remainder being used for the farm.
Outside of the farm Adam works full time at Kensington Agriculture Equipment as a mechanic. Jennifer recently joined the PEI Federation of Agriculture Board as a Queens County representative.