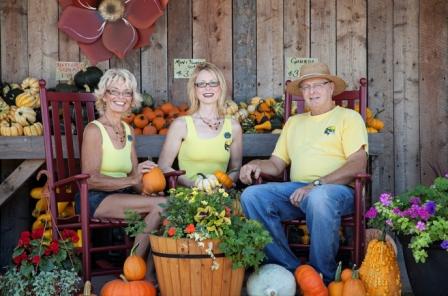 Balderston's Farm Market is a family owned and operated farm in Stratford, PEI. The farm is run by Allan, Diane, and their daughter April and originated in the turn of the 20th century when Allan's grandfather Murdock purchased the farm. Since that time the farm has been handed down through the generations and has expanded only in the variety of products and services it offers to its customers.
In 1957, Allan started selling strawberries roadside from his wagon. The family soon realized the product was in high demand and, by the following year, a small building was placed in the yard to sell their strawberries. This was the start of a very successful roadside marketing that continues today.
Today the Balderstons offer a wide variety of products to their customers from vegetables and fruits, to offering U-Pick flowers, herbs, strawberries, and pumpkins. They also offer farm tours to schools and other groups interested in learning more about how food is grown and the nutrition that it provides. Balderston's Farm Market is located at 11057 on the Trans Canada Highway Route #1 in Stratford. The farm market is open from late June until late October.